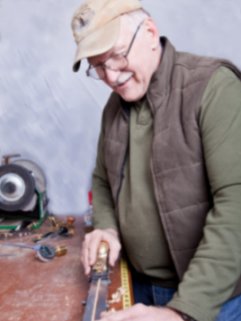 I personally hand-plane all D'Borer fly rods one at a time out of the highest quality bamboo culms available. I offer flamed or blond rods, which are finished in a high gloss varnish. The rods are fitted with high quality components and come in brushed-aluminum tubes with brass caps. I build most rods from my own tapers, which have evolved over a number of years fishing rivers like the Big Horn, North Platte, Frying Pan and Colorado. The fish in these rivers will test any rod to the limit and provide information on how well the rod casts, handles and lands big fish in fast water. I believe having the rod on the water is only way to get true feel for rods capabilities. If you live in the Denver area I do have some shop rods, which I will loan out for a few days to try. Shop rods mean I assume responsibility for breakage. Here is a list of the rods I am currently making.




D'Borer Special
This rod was first conceived, built and tested soon after I started making bamboo rods. It is smooth casting with medium action and a little kick on for longer casts. . Lengths: 6', 6'6", 7', 7'6" Weights 3, 4, 5 Pieces 2, 3 Tips 2

Big Horn Special
This rod was developed while fishing on the Big Horn over a 5 years period. I refined the taper for this rod to land large trout in fast water. I found it cast extremely smooth and will make long casts. This is a good boat rod since it has a lot of backbone and allows you to quickly land fish. Lengths: 8', 8'6" Weights 5, 6, 7 Pieces 2 Tips 2

Classic
This rod has been very popular with a lot of people who like the full-flex slower smooth action of an old time cane rod. Lengths: 6', 6'6", 7', 7'6", 8' Weights 3,4,5 Pieces 2, 3 Tips 2

Excelsior
This rod is extremely smooth casting with a little kick, which makes it a great dry fly rod. This rod is the best of both world's, smooth action and swelled butt for some power. Lengths 7', 7'6", 8' Weights 4,5 Pieces 2 Tips 2

Mortised
I build these rods on the D'Borer special taper. The casting stroke of this rod is very powerful with the swell in the handle area. The sensory feel in the handle allows one to know exactly what the fish is doing during the fight, because of the lack of cork. Lengths: 6', 7', 8' Weights 4, 5, 6 Pieces 2 Tips 2

One Piece
I have also been making some 5' one piece fly or spinning rods. These are great for small streams and come at a budget conscious price. Great for a first cane rod. Fly rod is 4-5 wt. Spinning rod is 1/16 to Ό oz. These rods come with PVC case.

If you are interested in a custom rod give me a call and we can discuss the rod you have in mind.

---

---
Rod Pricing
Custom 2 pc. 1 tip $700

Custom 2pc. 2 tip $900

Custom 3pc. (butt section, midsection and 2 tips) $1050

Mortised 2pc, 2 tip $1300

Five foot one piece fly or spinning rod $400

Blued components add $50
If special components are desired they can be added at additional cost.