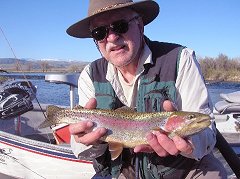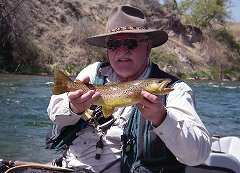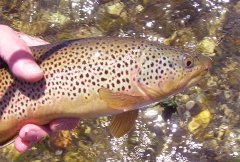 Having been raised on a farm in southern Minnesota in the late 40's I developed a love for all things outdoors at a very young age. I tagged along with my father while he was hunting and fishing. It wasn't long before I was out on my own following in my fathers footsteps. The values that were instilled in me during these years have stayed with me my entire life.
After high school, I attended Concordia College in Seward, Nebraska and earned a BS in Physical Science and if that were not enough, I met the love of my life, Rita. I eventually conned her into marriage and amazingly she has stuck by my side for 40 years! After college we moved to Denver and I took a teaching job at Lutheran High School. During my teaching years I earned an MA in education at the University of Wyoming. In October of 2005 I retired from Nobel-Sysco and began to make rods full-time. I have volunteered with Boys & Girls clubs, The Boy Scouts, The One-on-One organization, High Plains Drifters Club teaching youngsters to tie flies and to fish. I strongly believe that education is of the up-most importance to instill not only conservation ethics in our youth but also to help them to become well-rounded individuals.
I'm lucky to have a beautiful wife, Rita, who shares my love of the outdoors and is often by my side while hunting or fishing. Rita has even successfully harvested an elk all by herself (with her favorite guide)!. I have a son who lives in Seattle with his wife and two daughters. I also have a daughter who lives in Hendersonville, North Carolina, with her husband, son and daughter. My youngest son lives in San Diego with his wife and two son. My youngest daughter still lives in the Denver area with her children. I look forward to visiting my grandchildren (and children...sometimes) now that I'm semi-retired. Having them all located near great fishing was not planned but is a nice bonus!
During the fall, I become very hard to find while I'm at elk camp. I hunt with a bow almost exclusively. I have enjoyed harvesting elk and deer most of the years I have been hunting in Colorado. Starting in the 70's I began to build custom rods to compliment my hand tied flies. I had always had an interest in learning how to make a bamboo rod. In fact, I pushed Jeff Fultz into first trying to make a bamboo rod from scratch. I later spent four years working with Jeff in his shop while learning the craft. I have come to realize just how slow and arduous the task of making rods is, but the results continue to amaze me and the feel of cane rods is something that has to be experienced.